It's the beginning of the year and you wanna make a SPLASH with your new students, admin, and parents who are going to pop in to open house night.
But how?
There's no point going all out with decorations before the school year even starts (gotta leave some space for student work!), so what's a science teacher to do?
Interactive bulletin boards!!!
---
Here are three fun ideas for interactive bulletin boards that can be put up at the beginning of the year that your students will LOVE.
Number 1: Sudoku, anyone?
I've had an interactive sudoku board in the hallway outside my classroom for years. Students love it, and I've even seen teachers and staff pop by on their breaks to work on a puzzle. This year I decided to take it to another level and make it chemistry-themed! CHEMDOKU.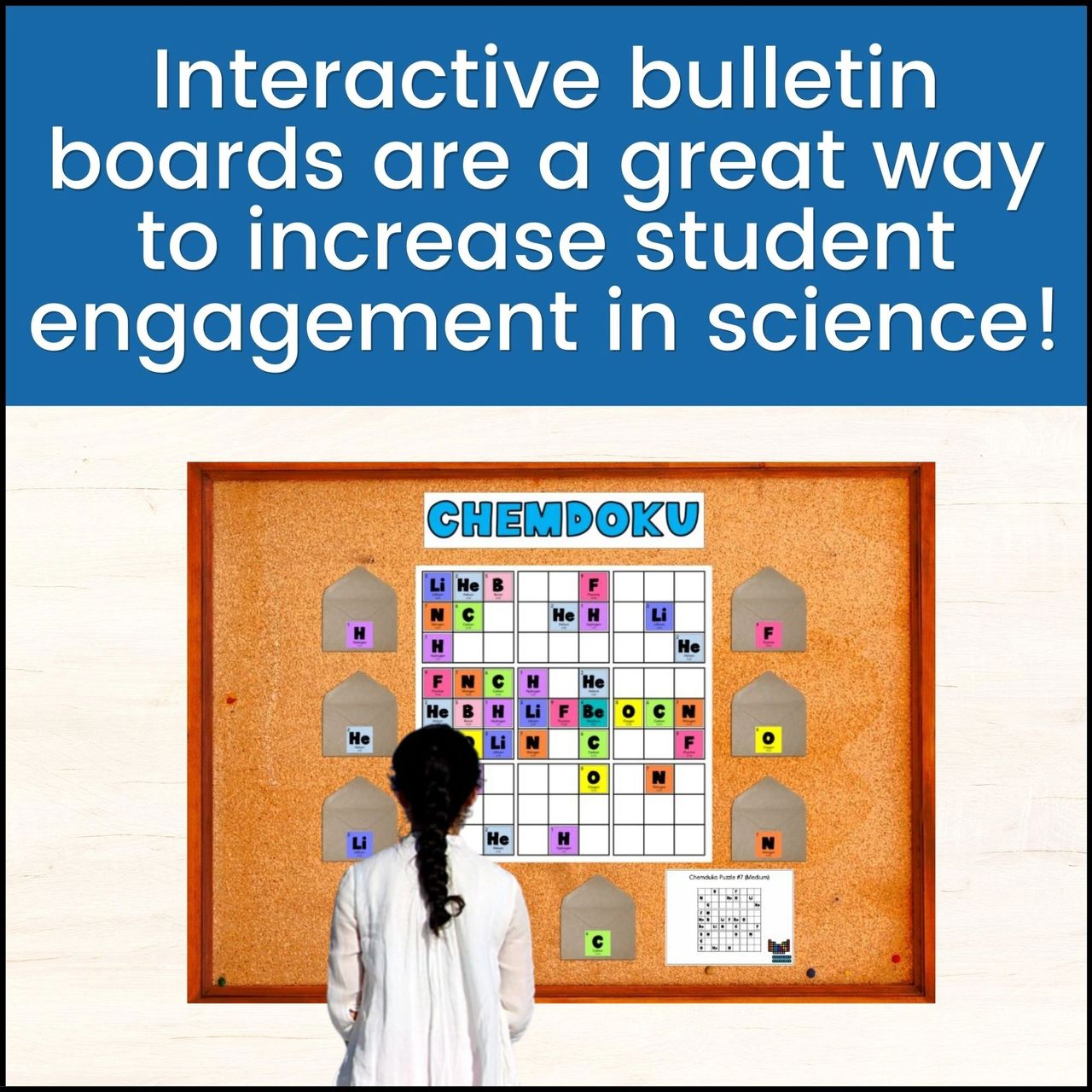 It's exactly the same as sudoku except that instead of the numbers 1 to 9 I used elements 1 to nine. I laminate the pieces, add velcro dots to the backs, and VOILA – a super fun bulletin board!
It's easy to trade out puzzles with any old sudoku puzzle that you find online, and you can even task students to find and print some puzzles to throw in a class binder.
Bonus: You can use it as an option for early finishers!
Number 2: Match Chromosomes & Build a Karyotype
I finally made a bulletin board that I have been thinking about since I was in university (waaaaaay back in the day).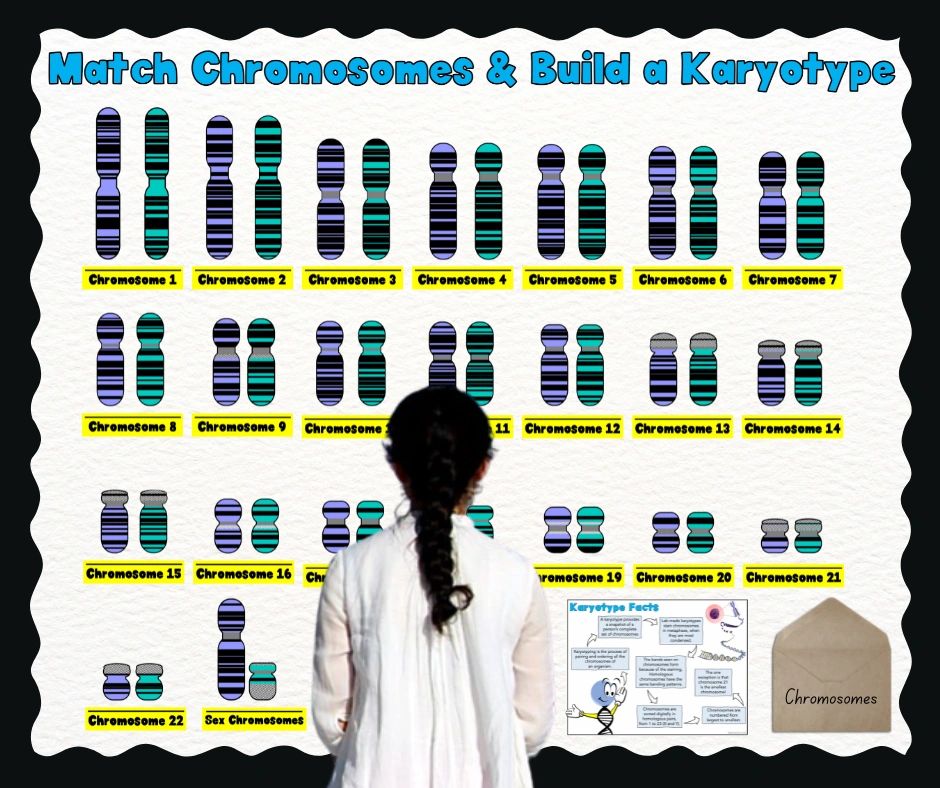 In my second year human genetics class we had to cut out chromosomes from a mishmash in our lab book and create a karyotype. We had to order them from #1-22 (largest to smallest) + X and Y and match each homologous pair based on their banding patterns.
I loved this assignment and replicated it on a large scale for community open houses at my university. But (as we did in the early 2000s) I cut them out by hand and colored in the chromosome bands…it took a long time!
I used magnets on the back and local kids came to our display and learned about DNA and chromosomes and ordered them according to the rules they were given. It was a total hit but of course I lost the pieces as I moved on with my life!
I have FINALLY digitized this idea and it's ready to go for this year. Even if students won't understand chromosomes and karyotyping at the beginning of the year it's an opportunity to keep their hands busy, initiate discussion with the teacher and their peers, and preview what they're going to learn about. I'm super excited about this one!
---
Number 3: March Mammal Madness, of course!
I've been going strong with this one since 2018! Create a giant bracket on a bulletin board and update it as the March Mammal Madness competition plays out in March.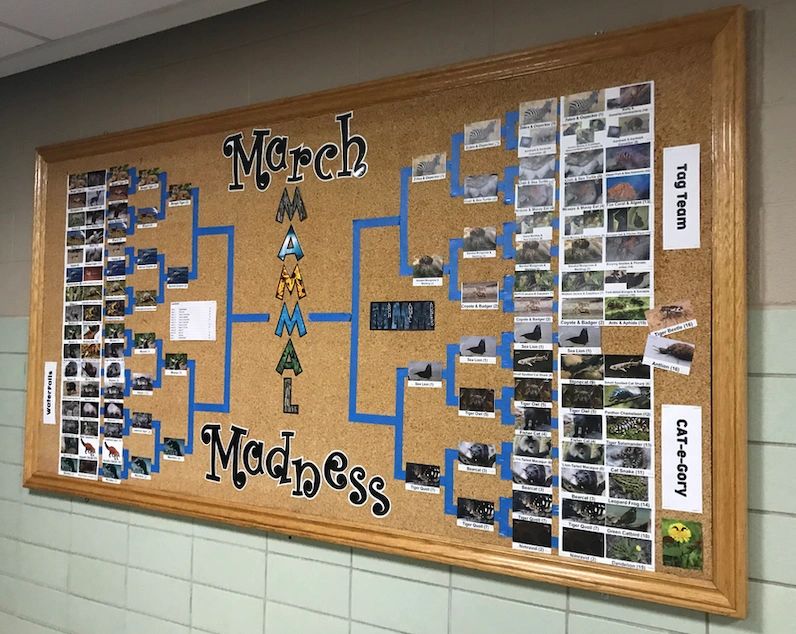 Obviously if you didn't do this for the 2022 competition you won't be able to show off last year's bracket, but set it up in advance to build the hype early!
And hey – why not have a bracket for something else in the meantime? Favorite molecule? Favorite scientist? Favorite interesting adaptation? The possibilities are endless!
---
So these are just a few of the ideas that I'm loving lately!
What are your favorite Science bulletin boards? I'd love for you to share them by shooting me an email at bigredscience@gmail.com!
Scientifically Yours,
Mo
---
Interested in other helpful Teaching ideas? Check out:
5 Quick and Easy Ways to Use Task Cards in the Classroom
My Favorite Twist on a Research Project
I NEEDED to change the way I taught this topic
6 Science Activities to Leave With a Sub That Are NOT "Busywork"
5 Easy Ongoing Science Activities to Engage Students All Year
Low-Pressure Icebreakers for the Science Classroom
7 Super Helpful Tips for New Science Teachers
Classroom Management Series #3: Tips for Reacting in the Moment
Classroom Management Series #2: Tips for Building Relationships
Classroom Management Series #1: Tips for Creating Systems
How to Guarantee that Your Students Will Remember What They Learn
The Proven Blueprint to Using Movies in the Science Classroom