You know it's coming.
As we approach winter break, you might be looking for some holiday science activities. Are you excited? Reluctant? Either way, I've got you covered!
---
Here are 11 ways to bring some holiday cheer into your science classes:
1) Winter Holiday Trivia
Sometimes you want to embrace fun holiday activities…but don't always have the capacity to set up an experiment or other elaborate activity. My solution is always trivia! Kids love it, it's so easy, and they'll learn some fun facts that will inspire research and talk at the dinner table. This trivia game touches on 5 holidays: Hanukkah, Winter Solstice, Christmas, Kwanzaa, and New Year celebrations. We start by watching some short videos about each holiday, and then the trivia includes topics like snow, candles, reindeer, corn, conifers and more! So fun.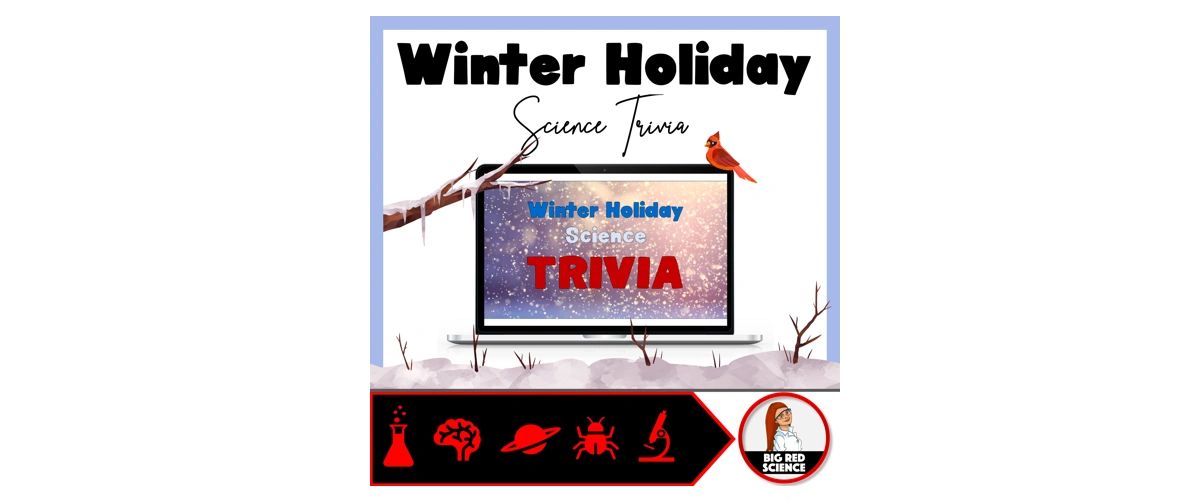 ---
2) Silver Ornaments
A classic in Chemistry class! Don't take my word for it – watch the quick video from Flinn Scientific or check out their write-up here. It can be used to talk about redox reactions, but if that's beyond your students right now you can just embrace it as an opportunity to practice lab skills like measuring and following directions.

---
3) Stoichiometry Baking
I always do a baking activity to introduce the concept of stoichiometry (i.e. adjusting amounts of reactants to create a certain amount of desired product). Small groups make batches of "stoichiometry cookies" by first determining how much of each ingredient are required to create a given number of cookies. (psst…you can easily extend this to include limiting reactant as well!)
It's a delicious teaching tool and it can be done with any recipe! Just pick something straightforward based on what you can do in your school and then ask questions like, "How much butter will be required if we want to make 3 batches of cookies?"

If you want to bake but stoichiometry is not something you cover, try…
---
4) Metric System Baking
Have a favorite recipe? Challenge students to practice unit conversions by first converting all measurements from US Customary to metric, and then make it! Talk about any food science that you know along the way! This can work especially well if you've covered biochemistry and macromolecules or fermentation (bake some bread!).

---
5) Plastics Ornaments
Steampoweredfamily.com outlines some super cool ornaments they've made, including milk plastics and bioplastics. This could become part of a conversation about a variety of things including polymerization, plastics and the environment, or materials chemistry.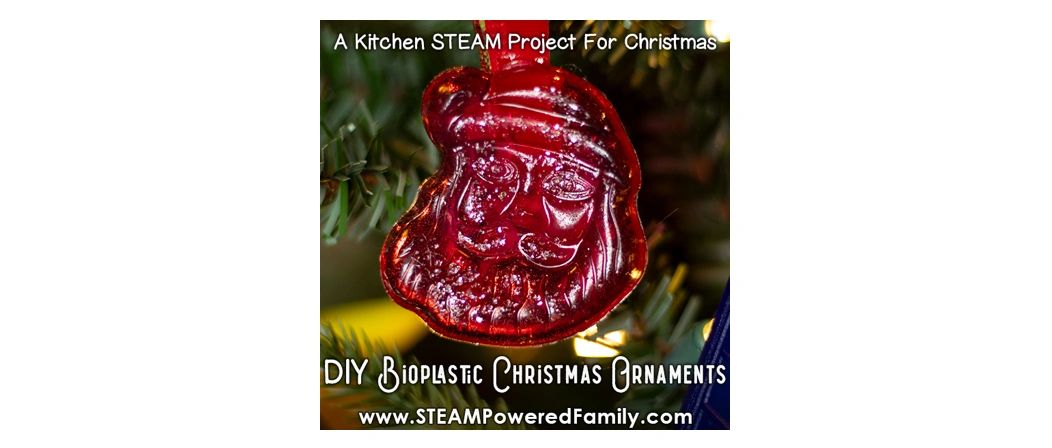 ---
6) Borax Crystal Decorations
Another classic! Some cool crystallized decorations that look great in any window. Check out a video here or a protocol here.

---
7) Ornament Challenge
I LOVE an open-ended challenge! Students can create an ornament related to something that they've learned in your class so far. Encourage creativity! Make a display! Make it a contest! You can even add an oral communication component by having students give a 30 second explanation of their work. Great review for everyone!

---
8) Decoration Review Challenge
Why limit students to ornaments? Let students pick an outline of a favorite winter or holiday item and have them science-ify it! Will they make an ugly sweater showing electron configurations? A gingerbread house dealing with an earthquake? Mittens highlighting evidence of evolution? Endless possibilities! Click here to check out the options.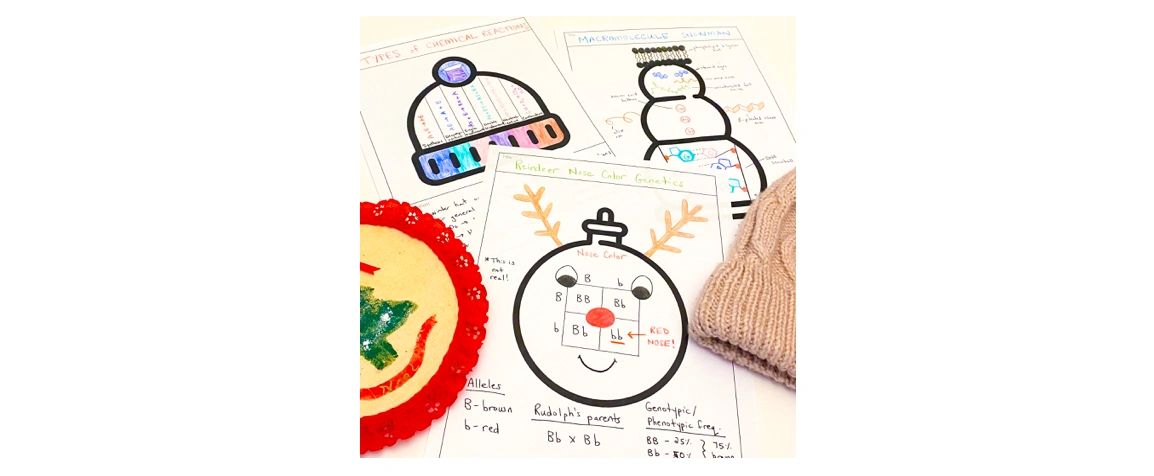 ---
9) Explore Antarctica with Metric Conversions
Okay, I'm biased because I made this case study, but if you want a "snowy" activity to do before winter break this is a great one! It's not holiday-themed, but instead has students learn about recent research in Antarctica while taking on the role of being on the Data team and doing lots of metric conversions as they go.
---
10) Partially decomposed sucrose with protein inclusions
I learned this lab activity in my teacher training and it was super fun to do with my classmates! You make peanut brittle with students, but the science-y versions of the ingredients sound extra exciting!
Peanuts aren't allowed in many schools anymore due to allergies, so you might need to switch up the recipe. Maybe oats? Pretzels? Nothing? Or make the protocol into a cute recipe card as a gift?
---
11) Bath bombs
This is a pretty common science experiment you can use to address various expectations. I've seen it used as a lab to study chemical vs. physical changes, in units on acids and bases, to create esters in an organic chemistry, or simply as a fun lab to practice measuring and becoming familiar with equipment and lab procedures. Add some glitter and food coloring and you have a bath bomb ready for the holiday of your choice! Some options can be found here or here.
---
What do you think? Will you give any of these activities a try?
Scientifically Yours,
Mo
---
Interested in other helpful Teaching ideas? Check out:
Engage Students in Classification with…Fecal Transplants!?
My Favorite Twist on a Research Project
I NEEDED to change the way I taught this topic
6 Science Activities to Leave With a Sub That Are NOT "Busywork"
5 Easy Ongoing Science Activities to Engage Students All Year
Low-Pressure Icebreakers for the Science Classroom
7 Super Helpful Tips for New Science Teachers
Classroom Management Series #3: Tips for Reacting in the Moment
Classroom Management Series #2: Tips for Building Relationships
Classroom Management Series #1: Tips for Creating Systems
How to Guarantee that Your Students Will Remember What They Learn
The Proven Blueprint to Using Movies in the Science Classroom
Using YouTube for a Low-Prep Bellringer